Fashion changes all the time, right? Well, decor is another thing that changes a lot. It can be tough to keep up with, but thankfully, what we put in our homes doesn't change nearly as much as what we wear! Still, furniture, paint, and everything involved with home décor still goes through periods where it's either "in" or "out."
Since no one can realistically redecorate their home four times a year (like fashion), decor sticks with yearly changes. Then, there are five and ten-year trends that stick around longer. Often, the changes stick with materials, while other times it's adding something small like a fresh coat of paint or a new accent to complement an already beautiful home.
For 2020, there's a ton of trends you'll want to add to your home ASAP, and you're sure to see them in your friends' homes! Before we get into the list, we want to stress that you should decorate for your happiness. Think of this slideshow as a suggestion!
Real Plants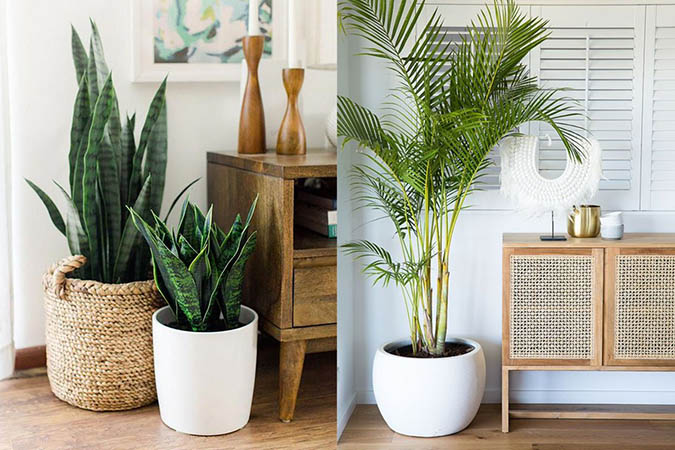 Younger generations are embracing real plants to the maximum, and we dig it. Real plants are great design elements that brighten a room, add a little oomph, and could even improve air quality! They go great in corners or blank places. Just make sure to get a plant that works best for the light-level of the area.
Wall Hangings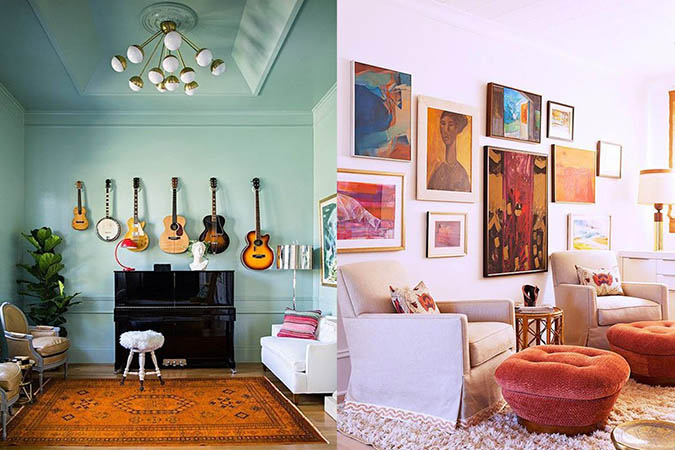 If gallery walls aren't your thing, try wall hangings. Instead of a mandala tapestry, go for things like macramé, needlepoint, crochet, or larger paintings! Just make sure it vibes with the rest of your decor.
Entryway Benches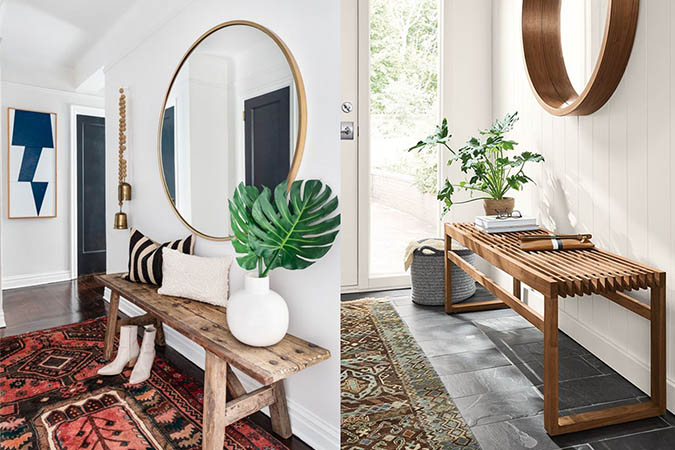 Entryway benches are getting popular for a couple of reasons. One, they give you the opportunity to reflect who you are via decor. Second, they provide a little place for someone to sit and remove shoes before tracking dirt and grime all over the home.
Natural Wood Details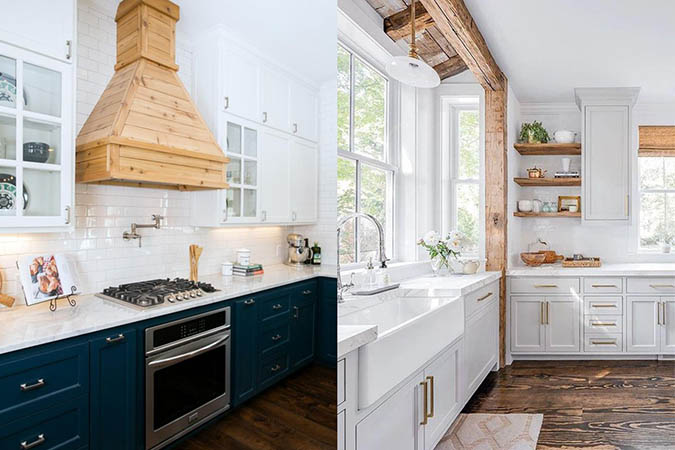 While dark, natural wood has been popular, lighter woods are taking the spotlight. You could add natural wood details using furniture, accent walls, or small items like shelving.
Brass Accents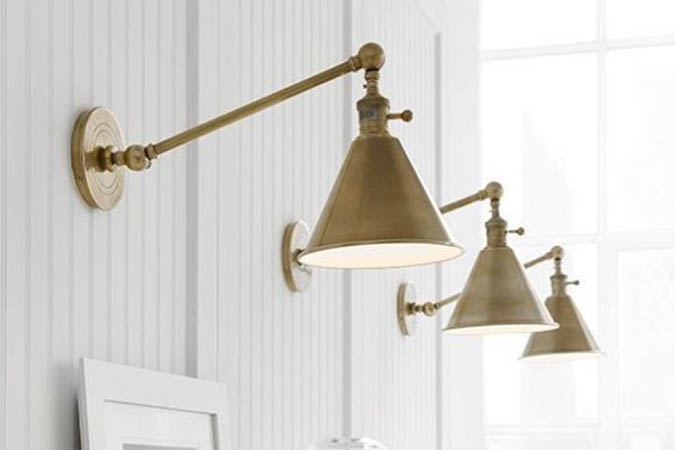 It's time to welcome back brass accents! This antique design trend has recently made a resurgence that we'll see well into 2020. Soft brass creates warmth, which is why so many people are choosing it over stainless steel and copper. If you're looking for a way to add brass accents into your own home, replace faucets, fixtures, and photo frames with this alloy.
Eucalyptus Wreaths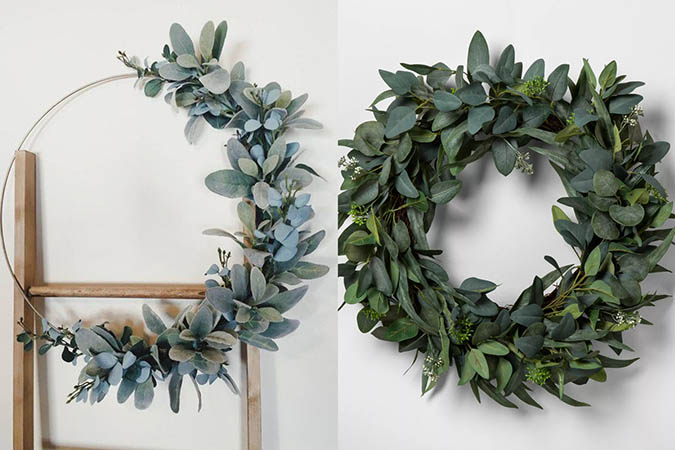 Regular wreaths are so last year. Now, it's time for something new. Eucalyptus wreaths are a good-smelling, stunning accent that turns a home into a festive place. Even if it isn't the holidays, this lovely plant is a great addition to your home.
Hand Drawn Prints and Patterns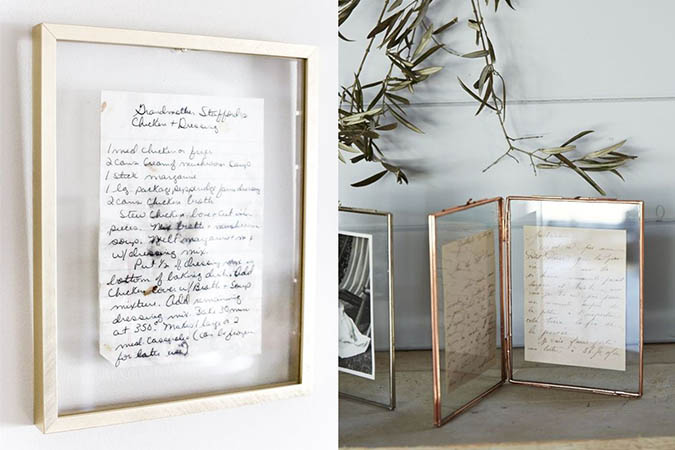 Hand-drawn art makes a home feel cozy whether it's calligraphy or full-on sketches. Adding a little art to your walls could be just what your home needs. Since wallpaper is coming back, particularly with accent walls, it's easy to try out a few little doodles here and there.
Marble-Like Surfaces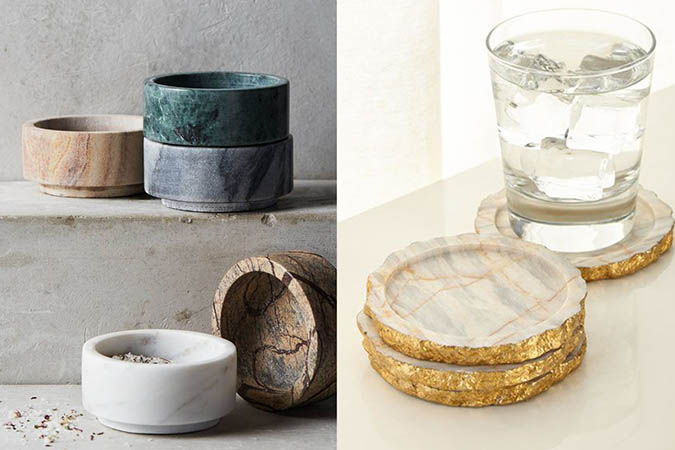 Don't go out and buy new countertops. That would be far too expensive. Instead, look at your walls or flooring! There's plenty of options to mimic the marble appearance without paying an arm and a leg. There are also accent items like side tables, cheeseboards, and other accessories.
Fun Accents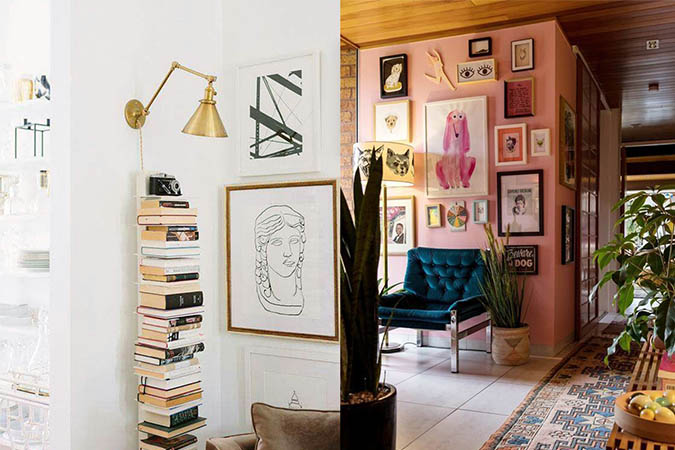 The past was about making your home look cookie-cutter, and we're all bored with that. Don't hide your personality. It's your home, and you should show off exactly who you are. Book lovers can make shelving out of old hardbacks, while knitters can hang their own art. At the end of the day, it's your home, and you should be happy in it.
Living Herbs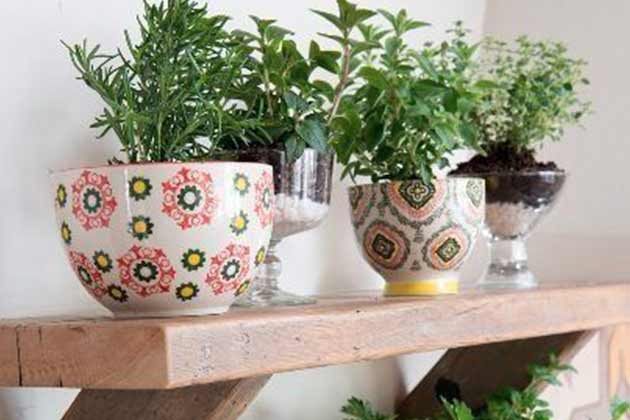 Don't you always wish you had fresh herbs for your garden? Well, now those herbs can be useful and a decorative element. Try to grow herbs like basil, bay leaves, chives, cilantro, or dill. These are all easy to grow in your kitchen as long as you have a window.
Art Gallery Walls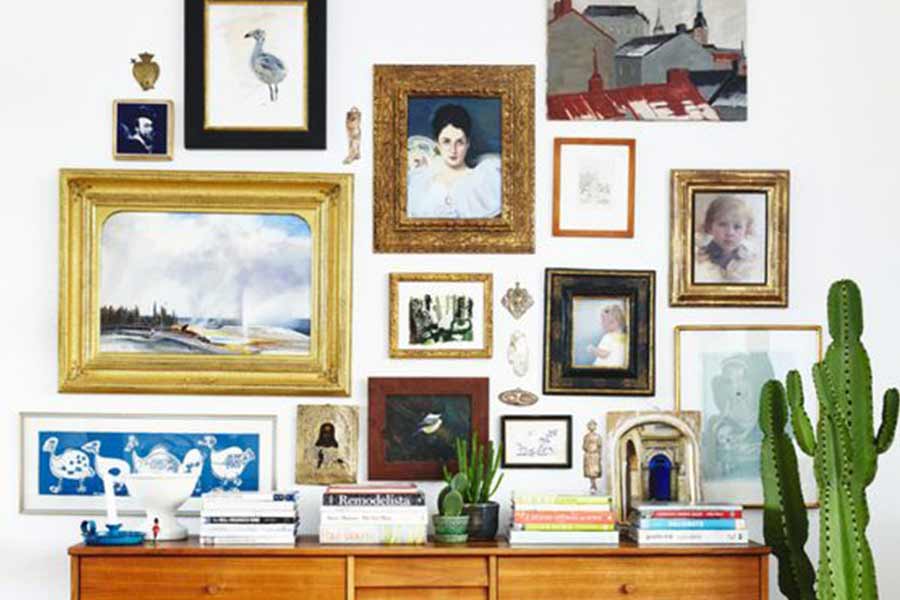 Bring. Back. The. Art. Gallery! Art galleries are finally back, and they're perfect for those that love art, want a billion family photos everywhere, or just want to show off some postcards they got overseas.
Formal Dining Rooms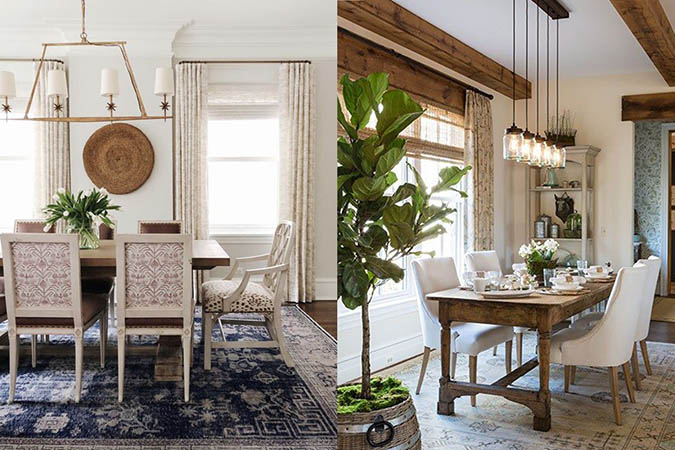 What may seem like an outdated design trend has finally made a return—the formal dining room. Over the last decade, many of us stopped caring about this room. But I've always adored it. Hosting dinner parties and holiday festivities requires a formal dining room! In 2020, we're restoring this room back to its original glory.
Statement Ceilings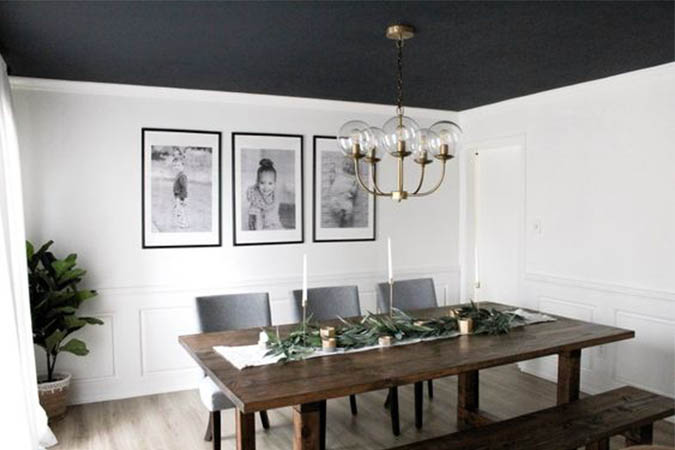 Go wild on that ceiling! No, really! Instead of a plain, old, boring ceiling (or god forbid a popcorn ceiling, ew), put up a design you love. While geometric is a great decision, some are using it as an accent wall by painting it a bright color.
Geometric Patterns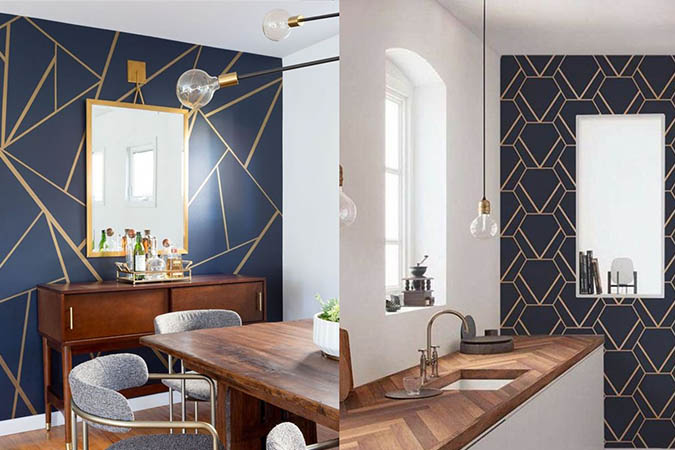 Call it the Roaring '20s coming back, but geometric patterns are making a comeback. They are a quick way to change up a home without making any huge changes. We suggest little accents like pillows or artwork, but no one is saying you can't go big with an accent wall.
Tile Patterns on Walls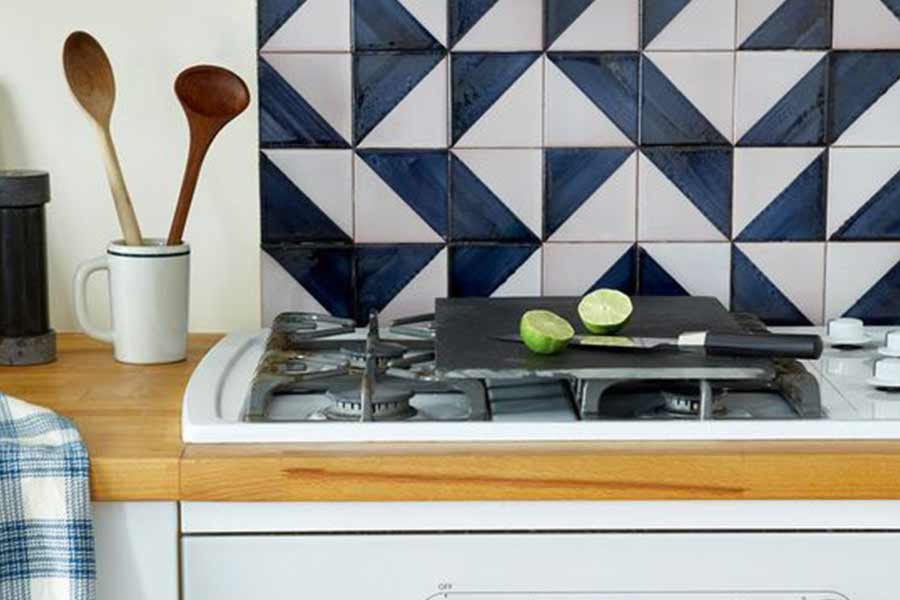 Tile patterns on walls act as an accent, especially for smaller rooms. That being said, we've seen quite a few designers incorporate tile into larger rooms, so they're definitely going to be a hit this year. This design is even more affordable with stencils and wallpaper.
Art Deco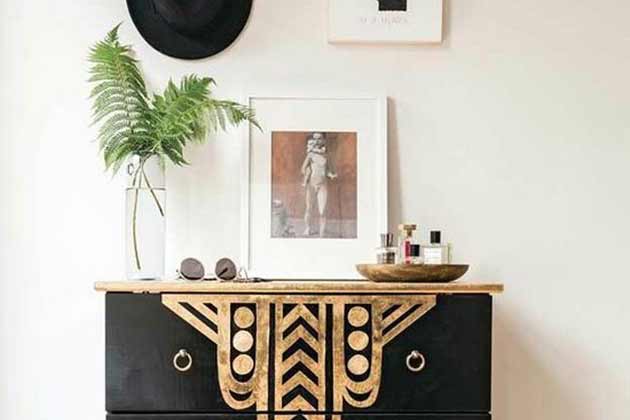 Art Deco has been on the "out" side of decor for a while not, but it's waited long enough. Since geometric is coming back, this one was bound to do the same. This style uses geometric shapes and strong colors which will highlight 2020.
Creative Bathroom Design
Does your bathroom need a remodel? If so, it's time to get creative. The standard double vanity and bathtub and shower combo are getting tired. Instead, look for statement mirrors, tiled tubs, and bright and bold accessories to give your bathroom some much-needed TLC.
Hygge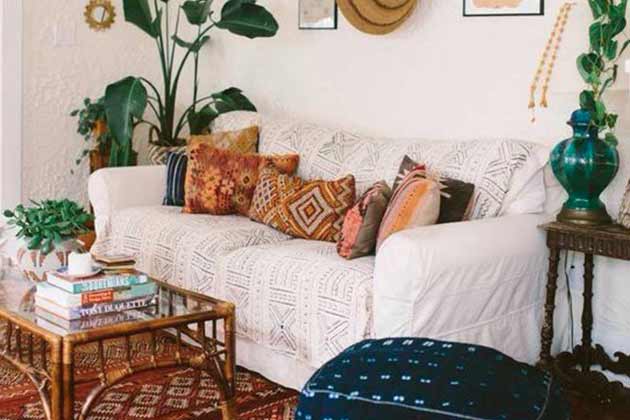 Hygge is a Danish/Norweigan word that describes an area that's comfy and super cozy. Think about the winter vibe you see in many social media pics. Hygge is going to be huge, and it's going to be a year-round thing.
Mixing Materials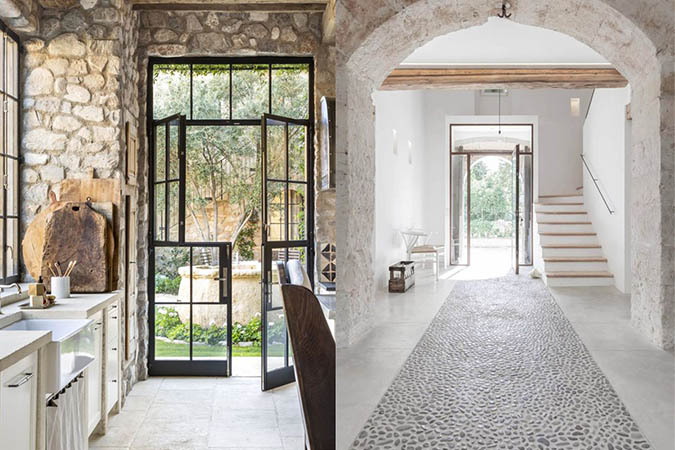 Interior designers are focusing on mixing natural elements like glass, wood, and stone. This makes your home feel a little cozier, yet still trendy. Play around with these materials to find a combination you like best.
Sustainable Materials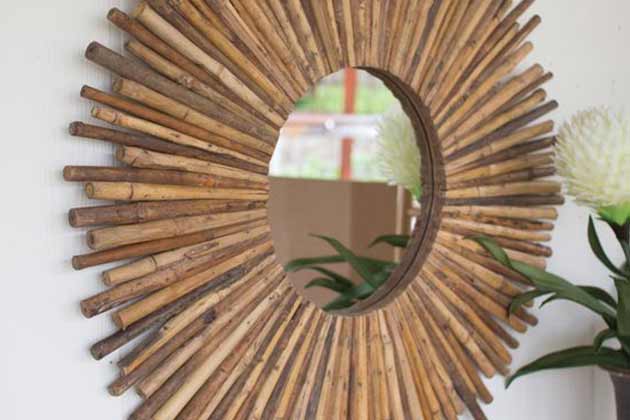 Younger generations are impacting decor, and that's why this is the year of sustainability. Using "green" materials will make your home eco-friendly and could give you a bit of a pep in your step. Use items made from things like bamboo, wood, and rock. Bonus points if some of the stuff is reclaimed materials.
Semi-Gloss
Matte has been huge these last few years, and people are getting bored of it. Now, semi-gloss is making a comeback. It's the halfway point between matte and gloss that people are craving. Regardless of color, give it a semi-gloss coat!
Curves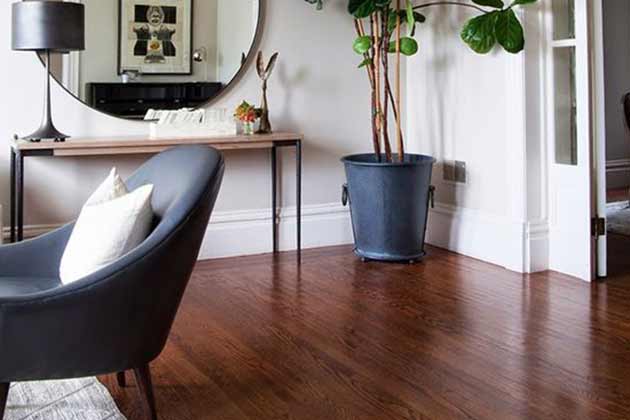 Don't you want a curvy…home? Well, it's a trend! There's no time for boxy furniture and decor. Curvy mirrors, picture frames, and even couches are becoming incredibly popular. Maybe it's due to the personality of the piece, but we say drag it out!
Eclectic Glamour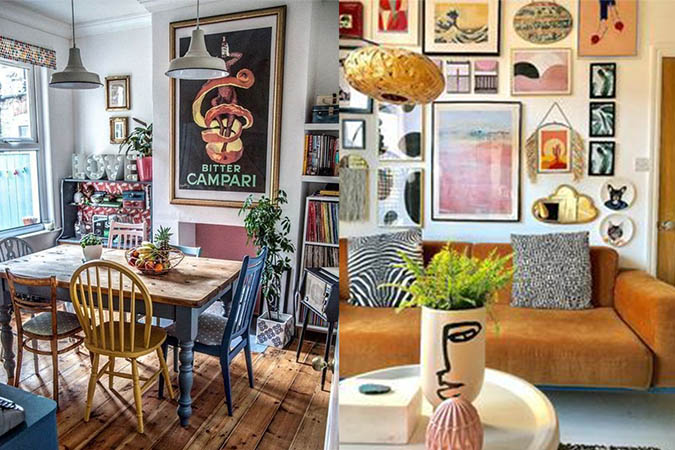 As we transition from 2019 to 2020, we are leaving minimalism behind and embracing eclectic glamour. And the best part about eclecticism is that it has no rules or restrictions. It's the combination of different styles, textures, eras, and elements. If you like artistic freedom, eclectic decor will be your groove!
Terrazzo Walls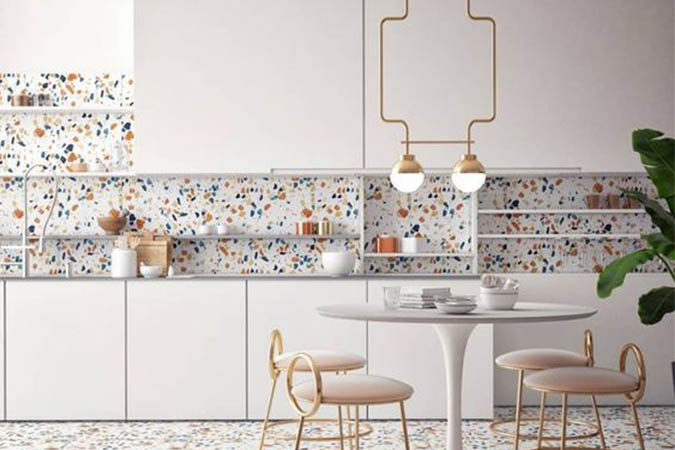 Terrazzo walls haven't been around since the '80s, but they're making a big comeback. If you aren't the type to go with terrazzo walls all over the place, you can go with a lampshade, table, or smaller items like paintings.
Bar Carts
Bar carts got a little boost a couple of years ago, but they didn't really get steam until recently. Nothing says "entertaining" and "hosting" more than a cart filled with delicious cocktails. Even if you aren't really a drinker, you can use it to store glassware. It could also be decoration for fancy-schmancy wine bottles.
Black Walls
Black walls?! That's definitely new. Interior designers are seeing an increase in black walls, although mostly as accent walls. The decor idea feels daring, so black furniture is always a great secondary option.
Bold Monochromatics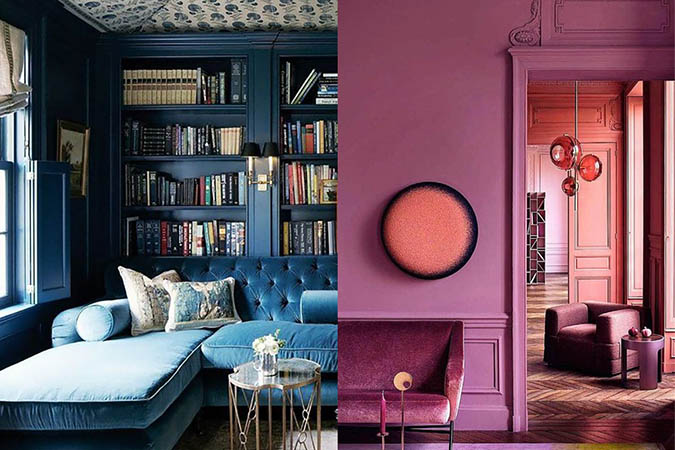 Bold monochromatic colors are taking over. These are colors of a single hue, meaning they're deep, rich, and concentrated. It's completely up to you what colors you decide to use in your home, but you get bonus points if you incorporate Pantone's color of the year—Classic Blue, or Pantone 19-4052!
Rattan, Wicker, and Cane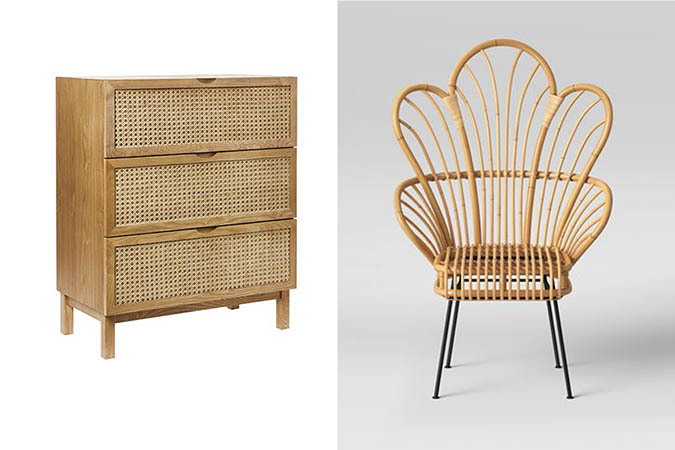 Woven furniture is in. And the trendiest types of woven furniture are made of rattan, wicker, and cane. It's likely your Pinterest boards are covered in these types of furniture and accessories. It's old-school, yet it has a fresh feel. The silhouettes create warmth, style, and eclecticism.
Smart Mirrors
This one is getting bigger because technology is getting so cheap. Smart mirrors are all the rage because they can tell you the weather, show a to-do list, and do everything a mini-computer can do! Talk about easy.
Multifunctional, Compact Furniture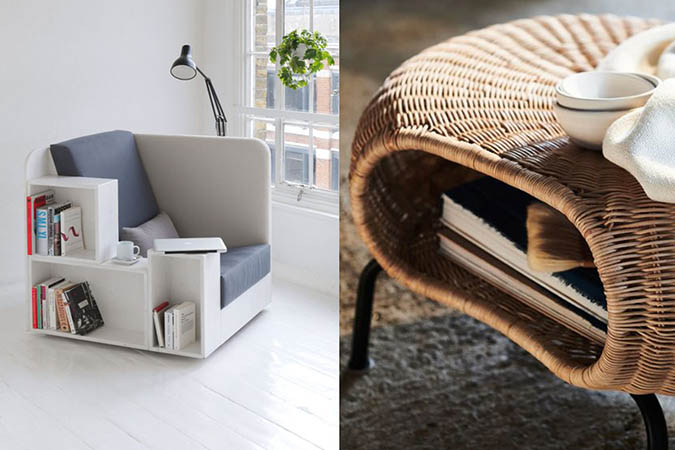 Anyone with a small apartment can rejoice for this trend. Multifunctional, compact furniture is all about having the ability to do more than one thing at once. Buying something new isn't always in the budget, but if you're already picking some up, grab a chair that can be a table or a desk that folds up!
Saturated Reds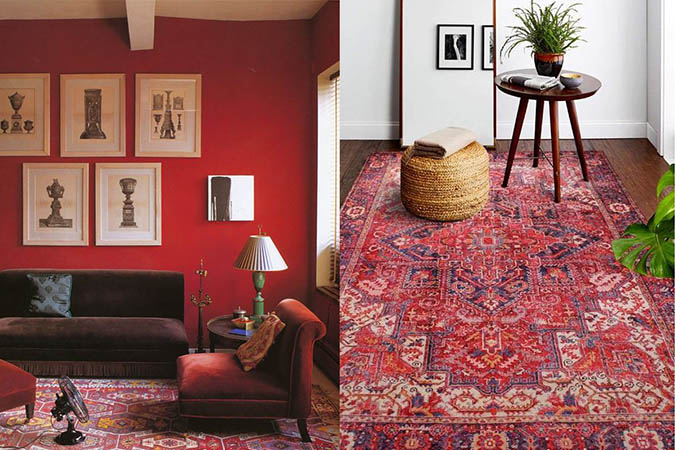 This year must be feeling hot, hot, hot. Red was huge on the runway, and now, red is popping up in our homes. Intense red colors can be incorporated via an accent wall or just a few accessories here and there around a room.
Lots of Lighting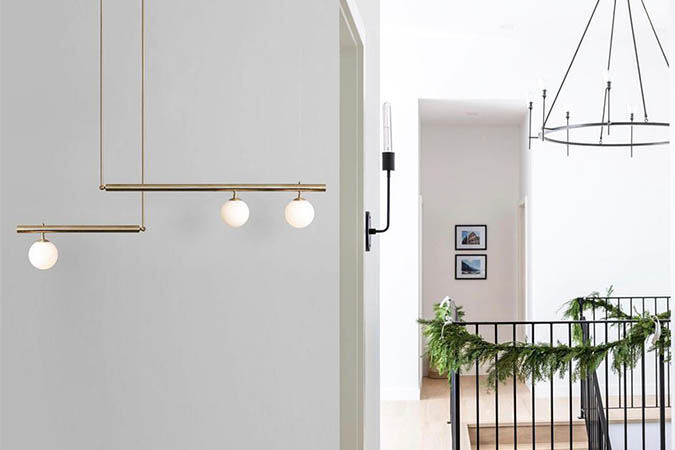 Time to brighten up your home! While natural light is preferred, adding light fixtures and lamps is always an option. An easy way to add natural lighting is to hang sheer curtains in place of heavy dark ones.
Staircase Makeovers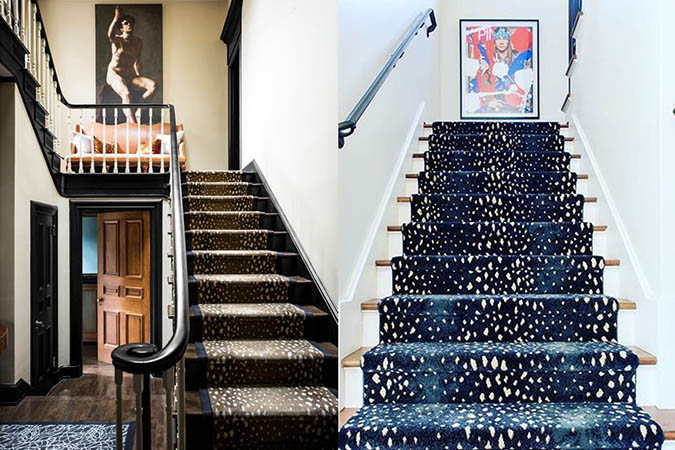 Have you ever thought of giving your stairs a makeover? Probably not, but this trend is popping up on Pinterest. There are so many great options to express yourself. The amount of change depends on how much you want to do — completely redo the stairs or just add a little carpeting.
Dark Green Living Rooms
While you're adding light, balance your home by adding a dark accent wall. As for the color, try dark green! It jumps off the "natural" vibe we're getting all over the place. You can even add plants to your home to really make everything feel perfect.
SOURCE: Living.Alot.com